9 November 2022

This is what team work looks like. What a continuous challenge to align patient care and educational goals. In a previous publicatie in Academic Medicine we addressed the efficient use of clinical performance data,  by using known data from the EHR for residents' assessment and feedback. In this new publication, under the leadership of dr Alina Smirnova, PhD, we test cased our own ideas for two clinical paediatric illnesses. Spoiler alert: this study contains new perspectives to positively impact patient care and residency training.   
25 October 2022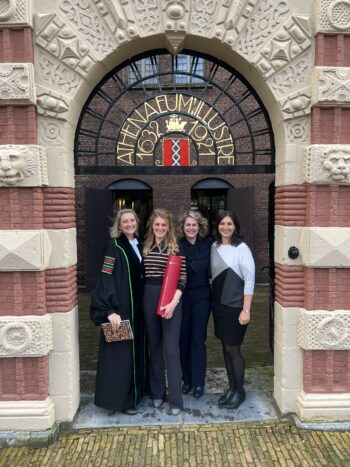 Today Iris Jansen convincingly defended her PhD thesis, titled: Interactions that Matter: Understanding Residents' Professional Growth Through Workplace Relationships. Please go read this impressive work here. This picture shows the all female research team: dr Milou Silkens, PhD en dr Renee Stalmeijer, PhD as Iris co-supervisors, and myself as Iris proud supervisor. 
1 August 2022

What a great start of the week! I feel honoured to be presented as the newest board member of the Dutch Network of Women Professors (LNVH). Thank you LNVH for this important position. Please be assured of my enthousiasm for and commitment to further strengthening the position and professional fulfilment of women (of all backgrounds) in academia!
Gender equality is not 'just' about equal representation of women in all positions, and in particular in positions of power. Ultimately it is about justice. Women are still experiencing a gender gap to the invisible but undoubtedly masculine norm in academia: in the way we treat female academics, organise our institutions and value our researchers. Let's get to work!
31 March 2022

The feminist novelist Virginia Woolf once observed, "Science, it would seem, is not sexless; she is a man." In the same spirit, one could argue that medicine is not gender-neutral — she is male. This is what we come to conclude in our paper published today in the New England Journal of Medicine. 'We' here is my co-author, Stanford physician and novellist Abraham Verghese, and myself. We hope our work will be supportive of the much-needed dialogue about today's gendered medicine.
15 March 2022

The world around us is constantly changing. Digitization, individualization, acceleration, feminization, robotization, and other societal developments have a significant impact on healthcare and the training of doctors and other healthcare professionals. The (In)Sanity in Healthcare Symposium – June 16th 2022 – revolves around the question which developments to embrace and which to be more critical of and/or cautiously monitor. Against this backdrop we focus on the topics of professionalism, vitality, and compassion. The Symposium is Dutch spoken, with the exception of the keynote lecture given by Canadian McGill University and dear personal friend Professor Yvonne Steinert, a world renowned expert in the field of medical education and training.
28 May 2021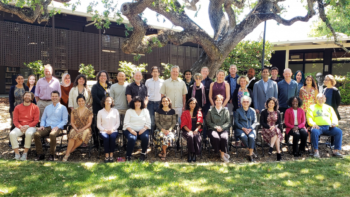 All good things must come to an end. I am deeply grateful for the CASBS experience. What a absolutely transformative year it has been. Thank you my dear fellow class mates and thank you wonderful staff of Stanford University's Centre for Advanced Study in the Behavioural Sciences. Thank you Margaret Levi for your leadership in this very challenging year, and allways. A big thanks also to Stanford Medicine's Presence Program and in particular my host and dear friend Abraham Verghese.
I will continue my studies and hope to see you all again soon. Miss you already!